Catches are updated during weekdays, Mon-Fri during office hours 1 pm - 5 pm.
Catches marked with an

↷

are put back.
Spawned salmon and sea trout must be returned into the water alive.
Do not lift spawned fish out of the water to measure, weigh or take a photo of it!

The same apply to all fish put back.
Registered catches without fishing license number or where you caught the fish, will not be registered. Neither will they be able to win a season-license after the season.
A maximum of 3 catches per person and day are included in the catch report.
Fishing license bought in store
The license numbers on the cards are found at the bottom right of the card.

Bought online
If you have an account at iFiske, you will find the license number in the app and under My Page at iFiske.

Otherwise, you'll find it on the receipt/PDF you received when you bought the license.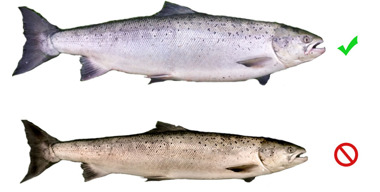 Salmon with its adipose fin intact, is recommended to release back into the wild.
For physical fishing licenses
If you have purchased a regular physical paper license in any of the stores, use the green button above to report your catch.
For digital licenses bought through iFiske
Only if you have purchased a digital fishing license from iFiske should you use the blue button above to report your catch.