Catches are updated during weekdays, Mon-Fri during office hours 1 pm - 5 pm.

Catches marked with an asterisk (*) are put back.

Spawned salmon and sea trout must be returned into the water alive.
Do not lift spawned fish out of the water to measure, weigh or take a photo of it!

The same apply to all fish put back.
Registered catches without fishing license number or where you caught the fish, will not be published online. Neither will they be able to win a season-license after the season.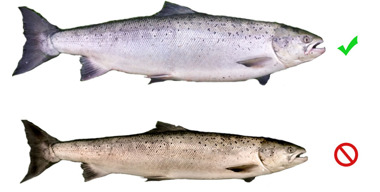 Salmon with its adipose fin intact, is recommended to release back into the wild.